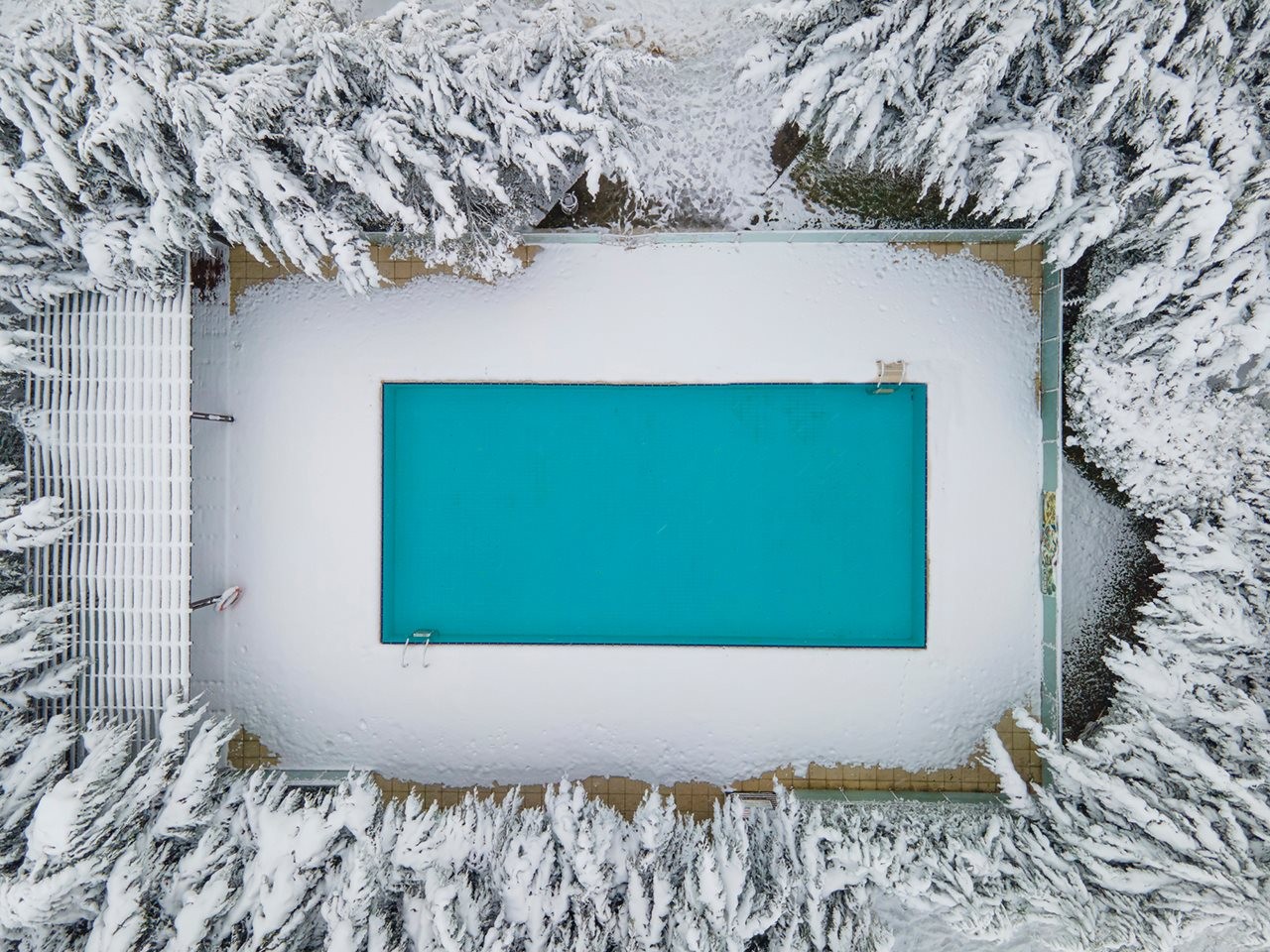 (BPT) – If you have a swimming pool, it may be the last thing on your mind during winter. However, snowy, icy weather or severe temperature drops can bring risks to your pool.
The good news is, you can help protect your pool from winter storms and freezing temperatures with these tips from the experts at Leslie's.
1. Keep excess snow from weighing down your pool cover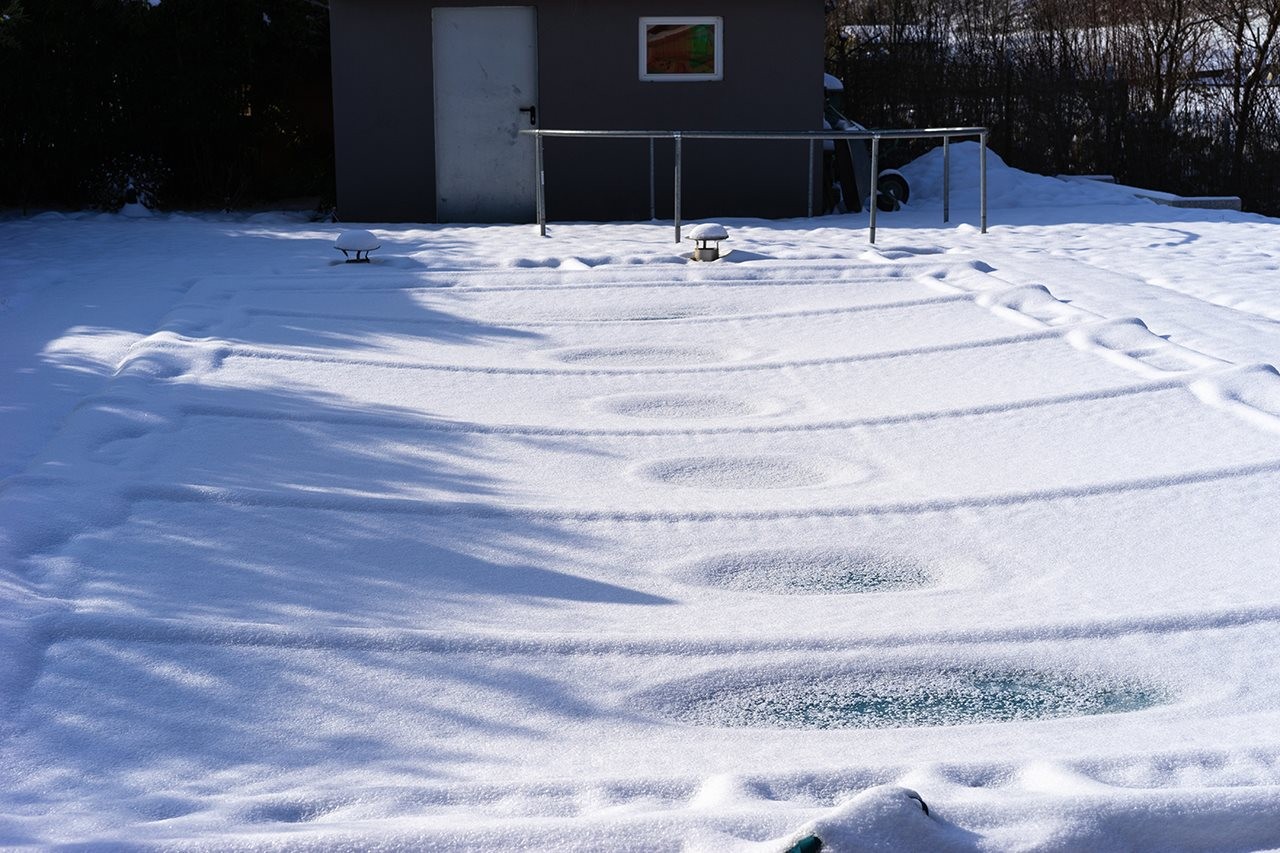 Occasional light snow is nothing to be worried about, but heavy snow can weigh down a cover. Especially when blizzard conditions dump a foot or more of snow at once, it's cause for concern. Light, fluffy snow can be blown away with a leaf blower. But for wet and heavy snow, try using a soft broom or skimmer net to remove as much extra weight as possible. While removing snow, be careful to never step onto your pool cover — even if you think the water beneath is frozen.
2. Make sure your pool boundaries are well marked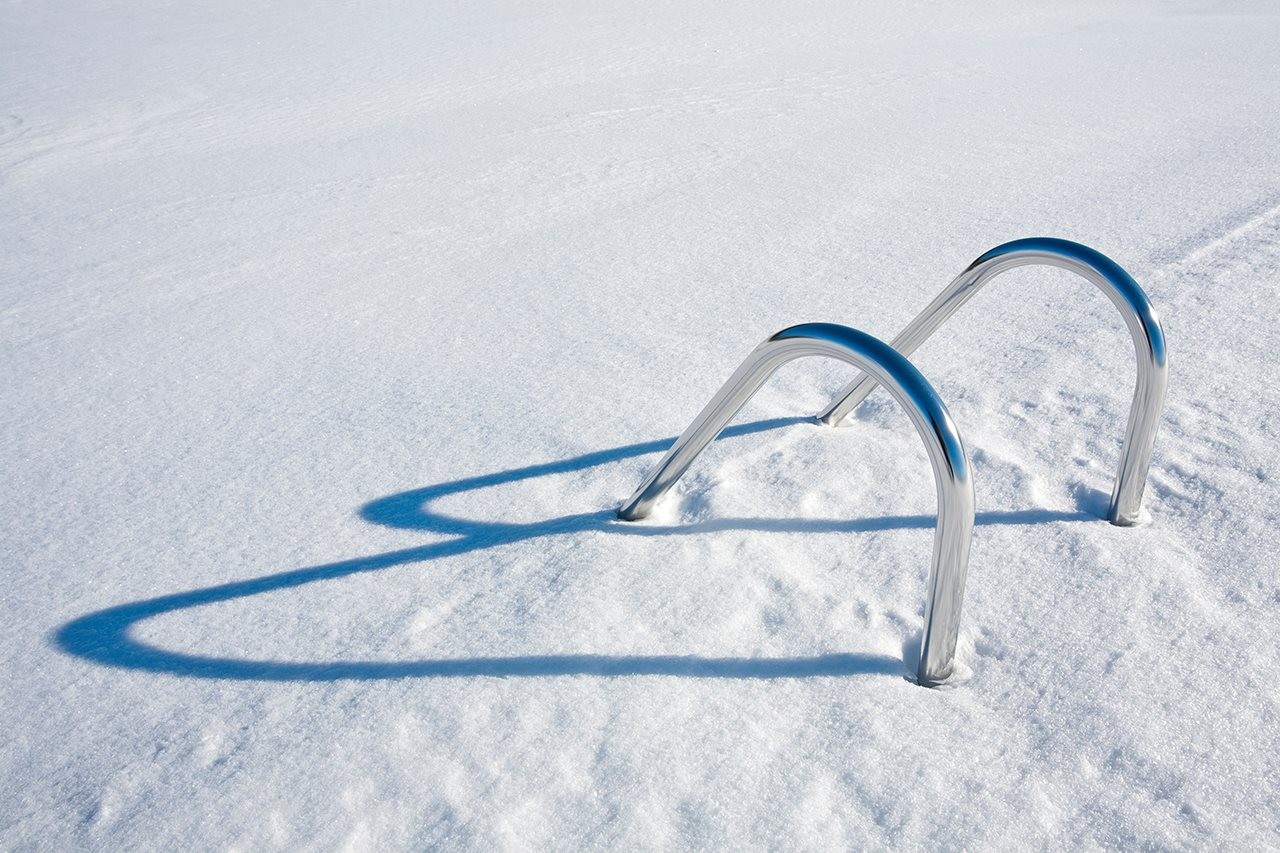 To help avoid accidents and prevent anyone from stepping onto the pool cover, make it easy to spot the boundaries of your pool after a heavy snowfall. Don't set heavy objects like patio furniture on the deck near the cover, because those items could damage the cover if they fall onto it. Setting lightweight objects, such as rubber or plastic cones or empty buckets, near the corners can help you see where your pool's boundaries are located.
3. Check for fallen tree limbs after a storm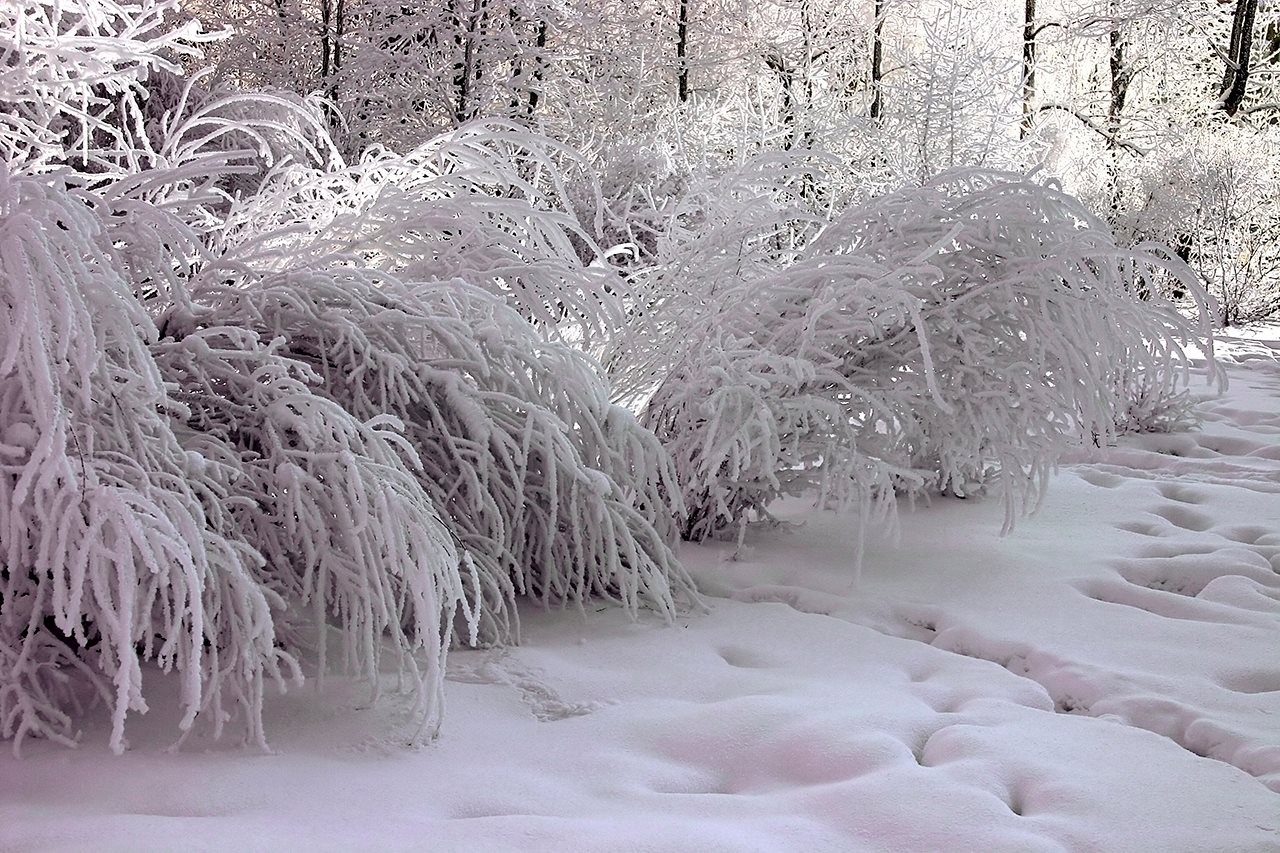 Fallen tree limbs are common after a heavy snowfall or ice storm. If they land on the pool, remove them as quickly as possible and check for cover damage. A rip or tear in the cover can allow debris to fall through or water to come out, and may even cause the cover to fail under strain. Multiple rips, or damage larger than a dollar bill, should prompt you to get a new cover, though smaller tears can usually be patched.
4. Make sure your cover is secured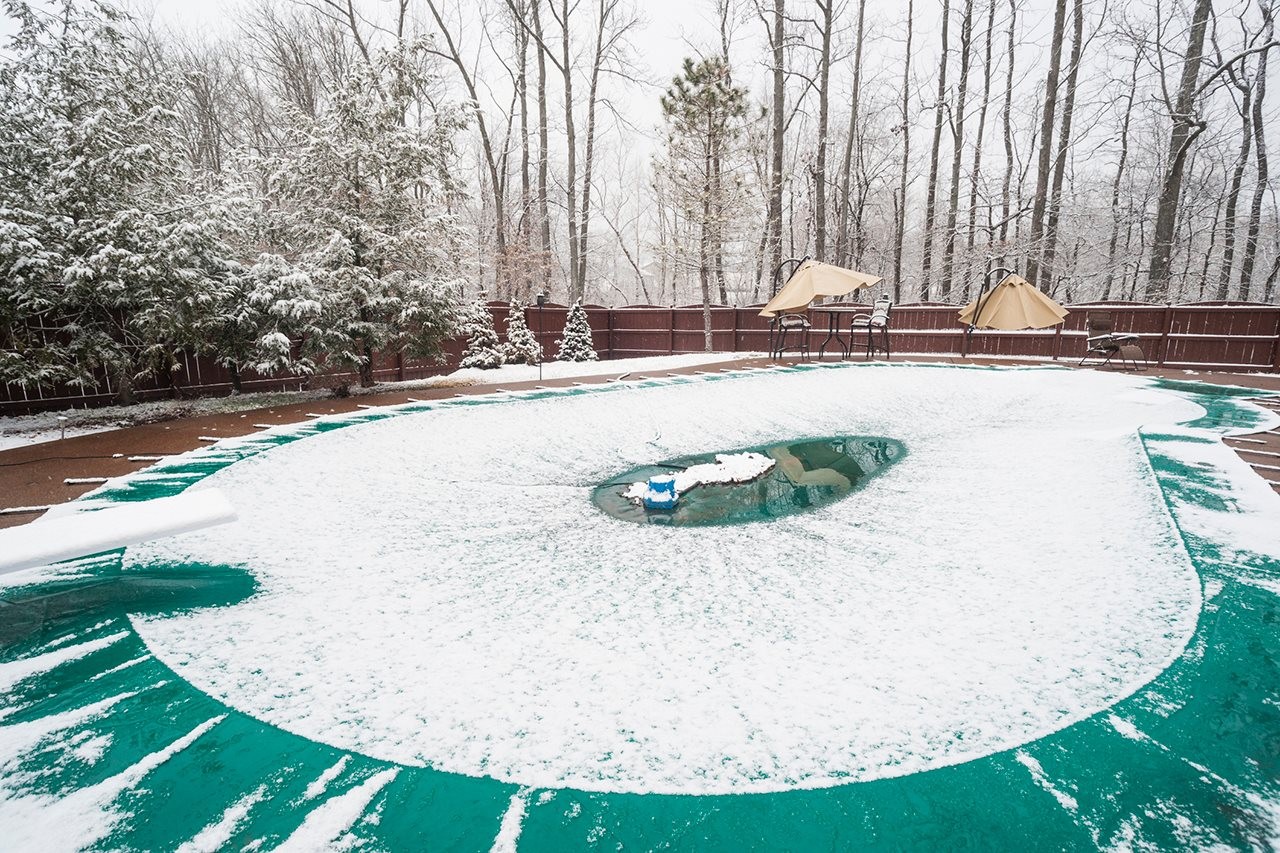 In addition to causing fallen limbs, high winds can also damage your pool cover. Keep the cover well secured to prevent wind whip, and be sure that your deck and yard area is free of large, unsecured items, such as patio furniture, which may blow onto the cover.
5. Safeguard against a deep freeze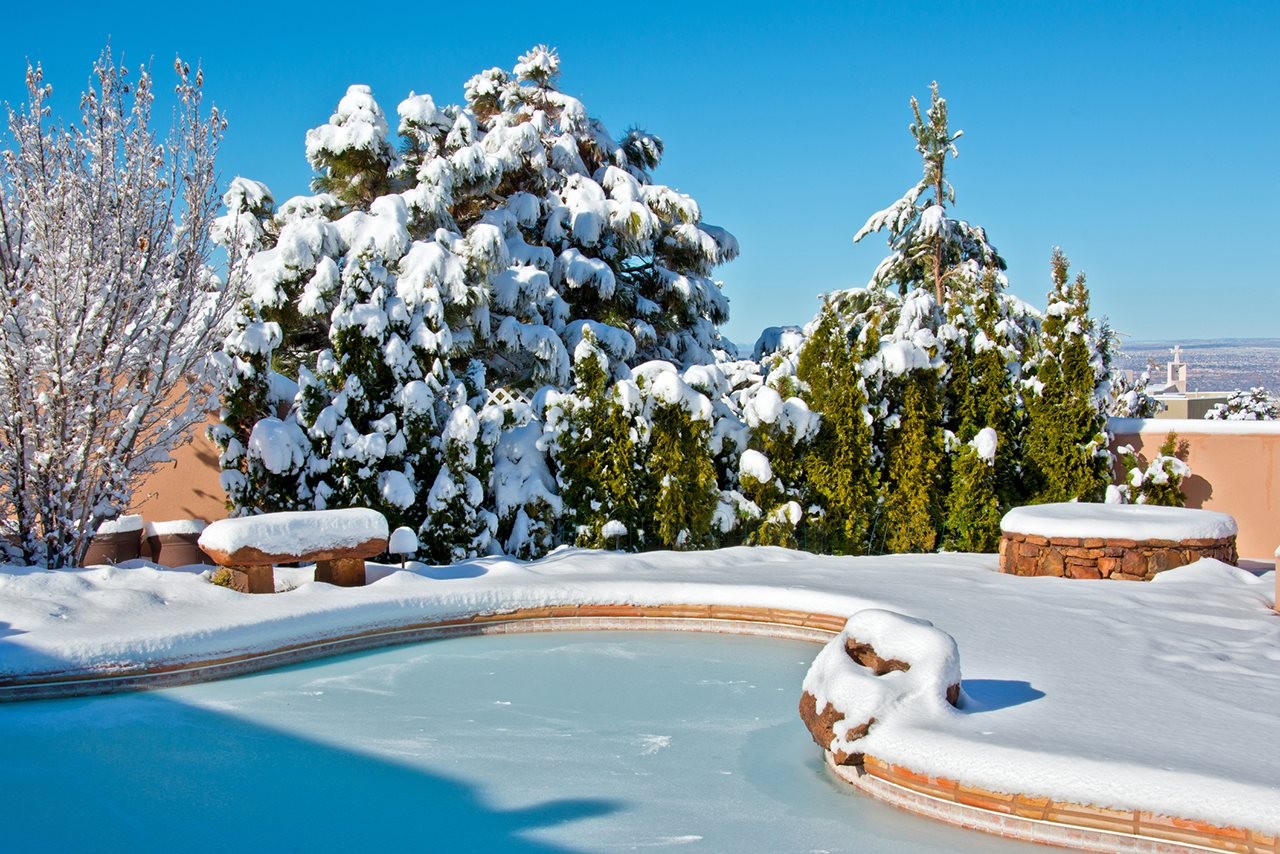 Unexpected freezing temperatures can happen anytime, anywhere. If you haven't winterized your pool when frigid weather strikes, be prepared with a backup plan. Water expands as it freezes, which can cause damage to plumbing and pool equipment that's still filled with water. DO NOT use any type of portable heater, heat lamp or electric blankets to protect the pump and filter — this can damage equipment or even start a fire. For pools with equipment that's still connected, run the pump on high speed until the danger of freezing temperatures has passed. If your power goes out during freezing temps, you'll need to act quickly to avoid damage.
Steps for emergency winterization:
Turn off the circuit breaker (so equipment doesn't turn back on when power is restored) and remove all drain plugs from your equipment. Open the air relief valve on the pool filter, too.
Remove the top from any valves with water in them and set your multiport valve to "winter" or between any two settings.
Protect your tile line against ice expansion by placing air pillows, inflatable pool floats or empty, lightly weighted plastic jugs in your pool. A weighted 5-gallon bucket can also be set on the steps, as long as it breaks the water surface.
Avoid skimmer damage by placing an empty, lightly weighted plastic drink bottle (or skimmer guard, if available) into the skimmer.
Wrap a towel around the vacuum breaker of your auto-fill mechanism (if applicable) for insulation.
Need help? Leslie's can provide assistance and resources to help you safely recover your pool after winter weather events, including at-home equipment inspections, winter pool maintenance, repair services and free in-store water testing or troubleshooting. Find your nearest Leslie's location or visit LesliesPool.com for helpful tips and information.