Hi Everyone, before we get into a change of renovation plans. Yuck, but I've been sick the last couple of days. It's mostly just a fever and aches. Not severe enough to call my doctor, but bad enough to keep me awake most of the night. My covid test was negative. I thought it was from the heat on Friday since I was out for three hours the evening before.
Anyway, I'm feeling better right now at 7:30 on Saturday. But, this is a "light post." For me, that is. But, why the glum looks? Oh, I know, I'm feeling better, and that is making you sulk. (bad joke) What is the matter?
Oh, Laurel, don't tell us that you're not going to do the renovation after all.
Well, believe me, the thought has crossed my mind. Everything is very slow. However, I am still planning on going through with it. But, it's not going to begin until early next spring. My goal will be to have it all finished by 2023.
However, there's been an important lesson here as I've had so much time to consider my options. So, what has changed are the actual designs.
The kitchen is unrecognizable.  However, here's what's interesting. The plan I'm going with is very close to one of my original plans. Some of you hated it. However, I've made some necessary changes.
Above is one of the most recent kitchen mockups from last March. However, I began doing this mockup in October.
While I still like this plan, a couple of things happened that caused me to change my renovation plans.
I began working with a kitchen designer who I can't mention now but definitely will. I asked her what she thought of the under-counter refrigeration; I don't recall if she answered. However, she sent me a rendering. That was close to this drawing I did in 2020!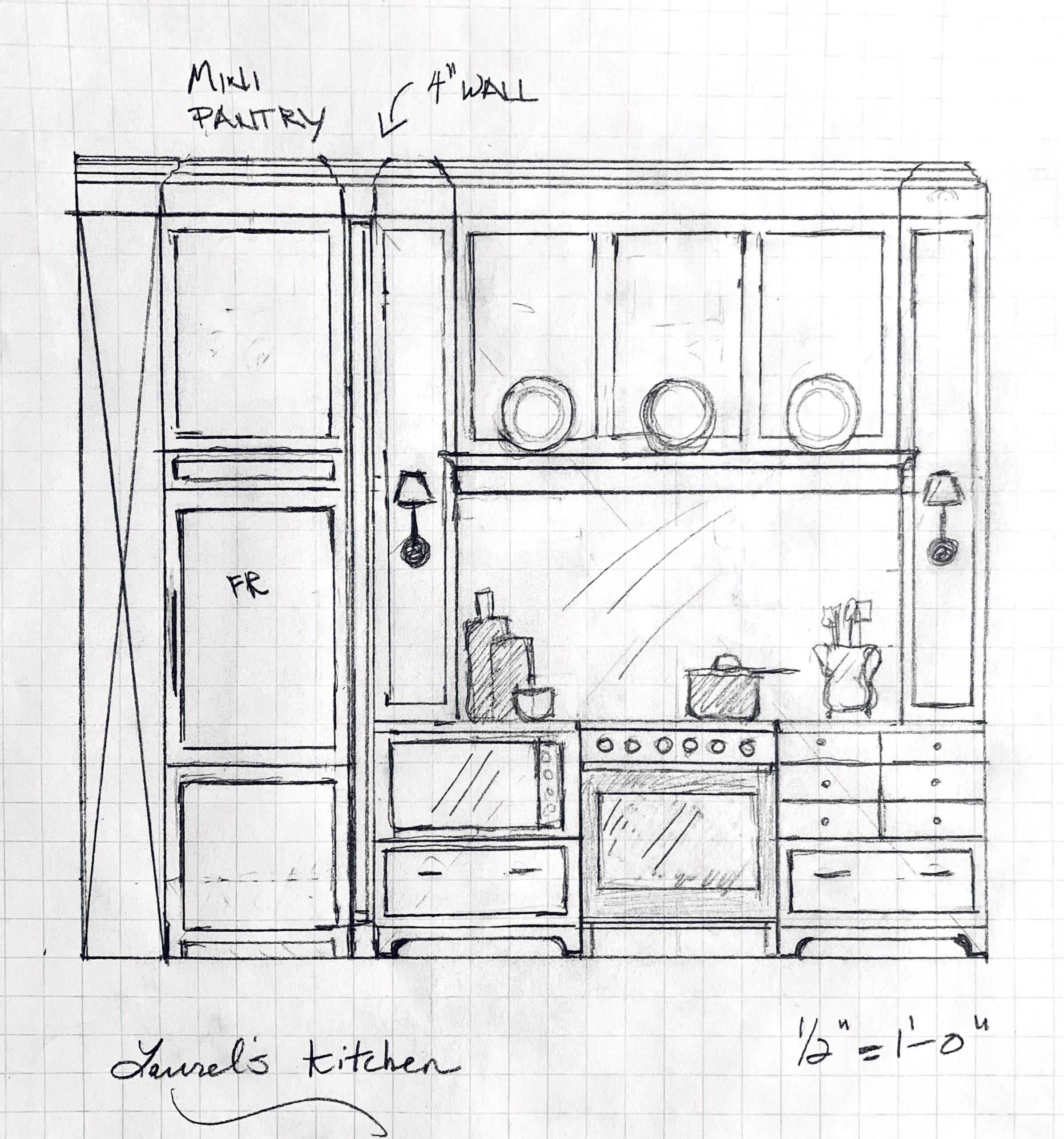 And while the details weren't there yet, the basic renovation plan I could see was better in numerous ways.
The most significant way is the refrigerator. The old renovation plans called for ONLY under-counter refrigeration.
Fortunately, I came to my senses. I don't think it would be good for resale. And maybe not even good for me.
Now, before y'all hyperventilate, yes, I KNOW the drawing above has some significant issues. First, there needs to be a generous stile (vertical piece) on the fridge's far end so the door can open all the way.
Also, the word "wall" was a misnomer. I really meant pilaster, but I probably said wall because, at the time, I was thinking of this as the mini pantry part of the kitchen. At most, the pilaster was going to stick out one inch. Alas, they're going to be fairly plain. But, I was told the one closest to the cabinet needs to be 5.25″.
I played around with the design and sent KD (we'll call her), not this rendering, but one similar.
Please ignore the faucet. And yes, I ripped that right off of Christopher Peacock. Well, I didn't rip it off of him, but you know what I mean. ;]
See? I mean, I used a similar image to this for the rendering! I can't find it now. But, this one will suffice.
Please note that the crown detail was not yet included in these renovation plans.
And, there was an error in height at this point. So, there's another 18″ to go!
Then I played with the design again, and below is what I came up with.

And the charming vent from fantastic designer Courtney Hill. You have to check out her work. It's gorgeous! And yes, I ripped the plates off from Furlow Gatewood.
Laurel, weren't those images in your frient's kitchen in Bronxville?
Do you mean this one? Yes, I ripped those off too. Do you have a problem with that?  ;]
Well, no, but you don't sound sick, Laurel.
Thank you, but fortunately, I'm feeling much better than I did last night and this morning.
However, my point is that when I design, I love to take a little here and a little there and then transform it into something that becomes my own.
However, I'm not finished, so let's keep going with the change in renovation plans.
The following week, KD sent me a full-frontal rendering in perspective of the kitchen. It wasn't this one. This is after I made some changes.

Please remember, we're still going up another 18″!
KD had put in a wood floor, but I love this rustic, not quite black and white checkerboard floor. The squares are 15″ square. The more I worked with this design, the more I loved it and knew we were on the right track.
All that needed to be worked out were the details. But, something was bugging me.
The counters. While I love the beautiful white marbles, it all felt like a marshmallow in the snow. And, remember how I'm always harping on balance. You know what I'm going to say.
It was crystal clear to me that the counters should be soapstone.
But, then, I had an idea related to the Victorian coving moulding I plan on doing.
The WHAT, Laurel?
Our English readers are having a good laugh right now. They know exactly what I'm talking about.
Above is the plaster coving, as the British say it. Or sometimes, cornice. But, it's never "crown."  The queen wears a crown, not the ceiling.
The cove is a true swan neck cove, they call it. And then most of the crown (we can stick to our American word) sits on the ceiling. But, what really blows my hair back is how you can see the beautiful return of the crown when looking at the top of the fireplace chimney.
Above is a close-up view and in cross-section.
And yes, folks, it's made of plaster.
Above is another Swan Neck Victorian Coving from GJ plaster mouldings in the UK. This one's a little too big for me.
DeVOL did a similar moulding in their incredibly gorge Manhattan showroom in 2020.
Of course, I have my own Victorian coving in both the living room and den.
This DeVOL kitchen features a more contemporary version of the ceiling cornice.
Mine has a decorative frieze. Remember when we talked about the entablature in classical architecture?
Well, I also want this Victorian detailing in my kitchen.
No, not as grand as in the living room. But, scaled down about 30%.
The problem is that everyone looks at me like I just dropped down from another galaxy when I begin talking about this stuff. However, that's not thwarting me. The wish is to have this kitchen look like it was ALWAYS here. I want Thomas Jefferson to walk in and say, "Not too bad, Laurel."
This would be a good time to review the current kitchen from the real estate pics.
Believe me; it looks worse in person. The inside of the cabinets is so disgusting; I can't stand it.
Anyway, we need to move on with the change in renovation plans because what was bothering me with this new plan was that I was no longer going to see that beautiful return on the hood of the Victorian coving cornice. I mean, if I have to have a hood. (I do.) then I'm going to make it the world's prettiest freaking hood!
Yes, I could go back to just a hood in the center and then the walls flanking it (like above), but I love the drama of the hood spanning the entire 93″!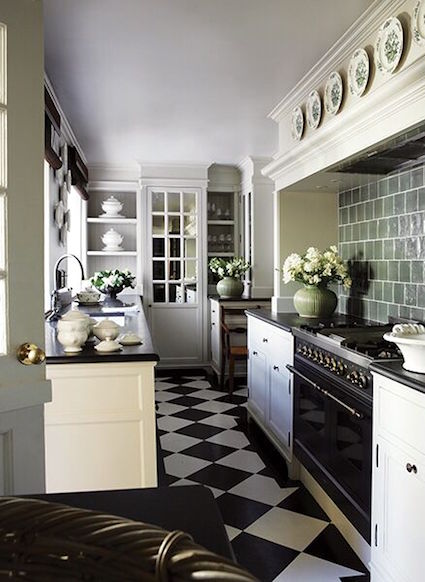 Above is John Jacobs's gorgeous galley kitchen. This is one of my all-time favorites!
Incidentally, yes, indeed, I ripped off the moulding detail on the hood. Remember this post about an early idea for my entry closet? Oh, so many beautiful mouldings! Well, I remembered this gorgeous one by Josef M. Design.
I love this, but I left the center cartouche off.
And then, it came to me. There is a way to create the dramatic hood spanning the entire length from the fridge onward and also see my beautiful hood return.
Yes, I could make the hood section into three sections. The center section comes out four inches past the two end sections.

This hood's detail is better. While I adore the Greek Key corner detail, it feels a bit much here. Besides, that motif already exists in the living room! Please scroll back up; you can see it at the top of the windows.
The other day, the cabinet people needed some good drawings for pricing purposes. So, I did further tweaking.
Now, let's look at how the renovation plans have changed for the back and sink walls.

The sink wall isn't quite done yet. And, I so wish the wall could be a little longer. However, it can't because of the off-center doorway. I've made it as long as I legally can. That's life. The cabinet on the right is a coordinating piece similar to the fridge cabinet. Only this one will house a dishwasher, microwave, coffee mak, and some pantry space.
I am sticking to the spirit of the classical Victorian English style. There are some areas of embellishment, but I am trying not to get carried away. I don't want anything to feel contrived.
So, let's look at some of the kitchen details.
Oh man, I can agonize with the best of 'em when it comes to the details.
However, it's the details that matter most! That is after the design and renovation plans are complete.
How did I do the crown detail?
Great question! It took me hours. I had to use wood for now. To make life easier for KD, I went to Kuiken Brothers who have a fantastic website and CAD (Computer Aided Drafting) files. They also have Victorian-style moulding. I changed one or two mouldings slightly.
However, it's hilarious. This is a very large image, but when I went to put it in my image in Picmonkey because I had to reduce it to a tiny fraction of this size, it disappeared, entirely!
Therefore, I had to seriously beef up the lines.
Next up, I'm 97% sure I want to do a frieze detail. I love the rosettes but don't want them too close together.
I found this decorative frieze from Outwater, but it's a little too large. For now, I used it, but shrunk down a little. The frieze and crown will run all along the kitchen and entry.
And finally. Do you have any idea how long I looked for that vent cover?
You will want to send the guys in the white coats if I tell you. (Yes, please do, but only if they're cute.) ;]
Bloody damn! I couldn't find it. So, I looked up geometric patterns on Pinterest. And I came up with one that I really like.
I could also have copied Courtney Hill's, but I like this one.
Then, I put it in Picmonkey and reversed the black and white to make the grill out of the white. See? I love this!
Oh, there's more. But, alas, I am pretty tired now.
Above is the new floor plan. It's true; the kitchen has less counter space. However, it has two good-sized counters on either side of the range. If the range is off, it can also be used as a counter. Also, I added some pull-out shelves. Please scroll back up to see. I love the way that detail looks.
Okay, I'm going to close with one last image I made about four weeks ago, using KD's computer generated rendering as a base.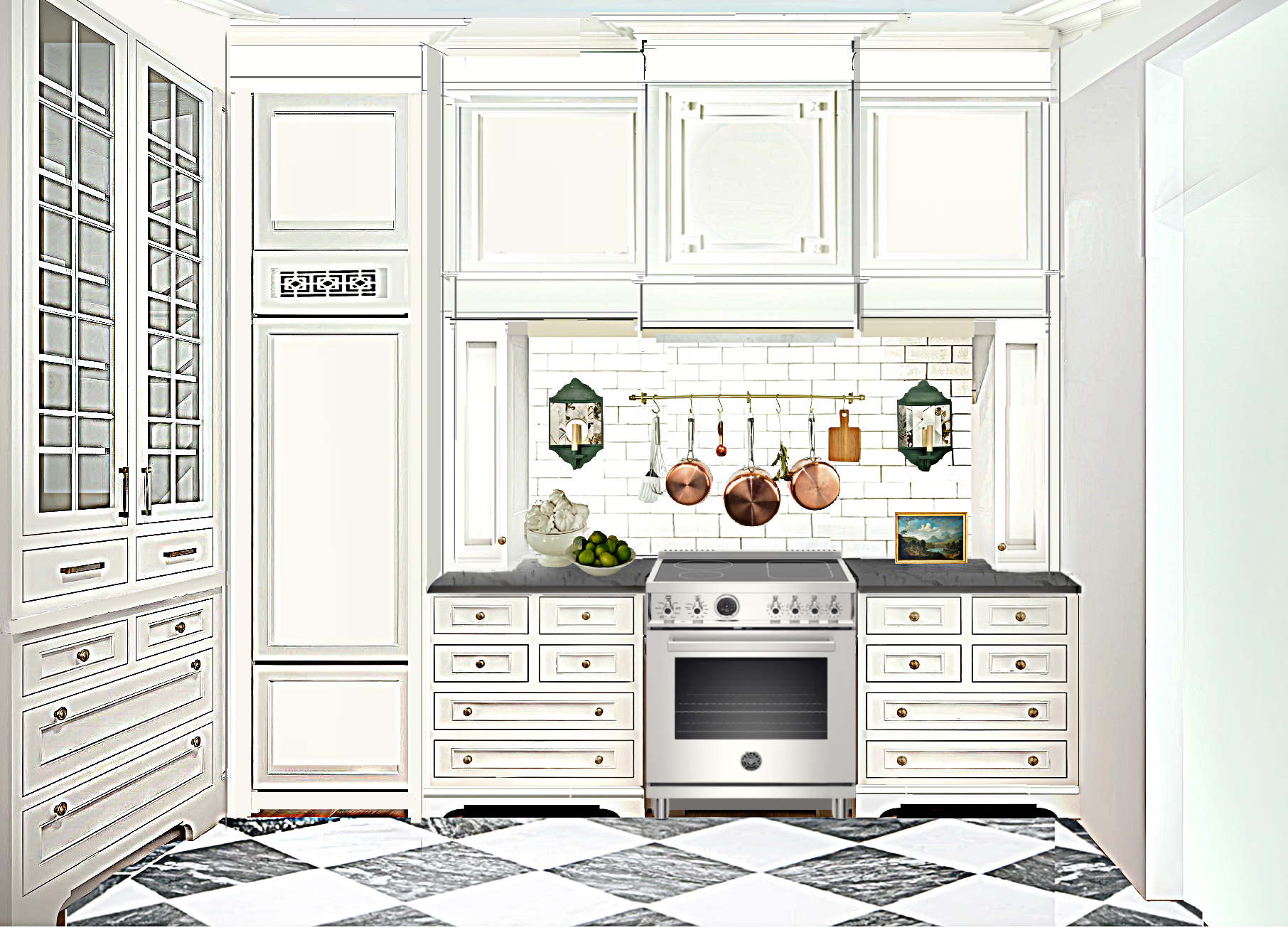 Does that little painting look familiar? You can see the real one here, which is far larger.
Anyway, I love these new renovation plans!
The soapstone is definitely the way to go, I think. By the way, I'm not going to go too crazy with the shaped valance furniture toe-kick. I adore the way the Bronxville bathroom and kitchen were done. 
The downstairs has changed too!
I think it really is true that one should be in their home at least a year before any major changes are done. But, now, I'm wondering if it should be two years? Yes, if you're me. haha
Well, I need to rest, so I'm going to edit and relax.
Hope you're all fairing well with the heat. Speaking of which, my temp is almost back down to normal.
xo,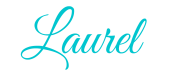 PS: Please check out this week's super HOT SALES!

And, also, there are only EIGHT days left for the Nordstrom Anniversary Sale!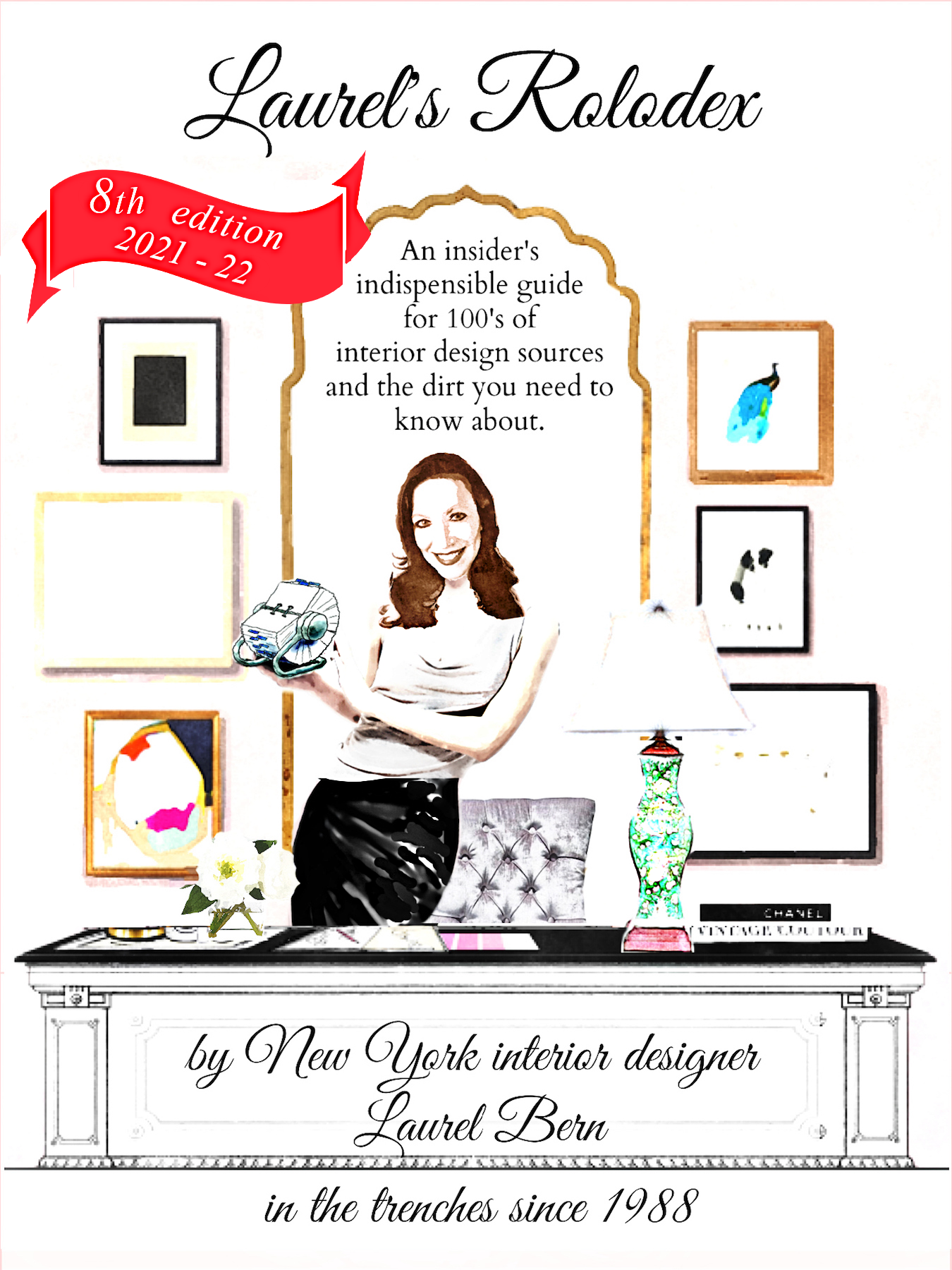 Related