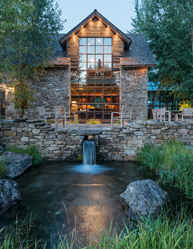 We believe that the most sustainable thing we can do as architects and builders is to construct houses that last a century or more.

BOZEMAN, Mont. (PRWEB)
November 20, 2020
With its wide open spaces and restorative connection to nature, the Rocky Mountain West's appeal is growing with city dwellers interested in staking their claim on the stunning landscape in what one Aspen realtor has called "the great urban exodus." That influx of interest has turned national design attention to a style known as Mountain Modern – and to top practitioners JLF Architects. While the Bozeman, Montana-based firm resists being pigeon-holed, JLF is an acknowledged pioneer – with over 40 years of experience – of the art of curating and repurposing timber and stone salvaged from derelict historical structures into legacy houses that sit easily on the land, combining honest regional materials and forms with the best of contemporary design.
The practice of using hand-selected reclaimed wood in modern houses is second nature to JLF Architects, which first dismantled an antique cabin in 1979, restacking the old materials within the design of a new home on the site to honor a past era while moving the design forward. When the Wall Street Journal and New York Times recently covered the now national trend of integrating salvaged wood into contemporary interiors, both turned to JLF for expert advice. And honors for the firm continue to accumulate, with a prestigious Mountain Living Home of the Year win in 2016 for a rustic-yet-refined Jackson Hole homestead that seems to grow organically out of its high-country site, followed by a 2019 Legacy Award for partner and design principal Paul Bertelli and a 2020 Women in Architecture for principal Ashley Sullivan, among other honors.
"We have always believed in sustainability," says Bertelli of JLF's dexterity with recycling elements of the past into an enduring present. "We believe that the most sustainable thing we can do as architects and builders is to construct houses that last a century or more. We make them with materials that mature, get better with age, and require very little maintenance. They are rigorously engineered and extraordinarily structured to be robust and durable so they are ultimately timeless, not trendy."
While best known for its high-country heritage houses in some of the West's most iconic settings, including Jackson Hole, Wyoming; Big Sky, Montana; and Park City, Utah, JLF Architects' dedicated practice and philosophy translates beautifully to projects across the U.S. In upstate New York, Looking Glass Farm incorporates 21st-century aluminum elements with 19th-century materials reclaimed from Amish barns. In Tennessee, Hidden Lake House appears to float on the water while it unfolds in segments connected by footbridges. And in California, Casa de los Peregrinos, set on a bluff overlooking the Pacific, is a literal work of art, created in collaboration with more than 300 artisans.
Whatever the location, a keystone of JLF's durable appeal is its design-build partnership with Big-D Signature. The 20-year-old alliance ensures a seamless experience for clients as the team incorporates the handcrafted detail of the West's finest artisans within the best of contemporary engineering. Says JLF principal Logan Leachman, "Our design-build approach has allowed our team to look at the design of each structure holistically to create continuity and quality within architecture."
About JLF Architects:

Building timeless structures rooted in integrity and simple elegance, Jackson Hole, Park City and Bozeman-based JLF Architects applies distinctive solutions and materials to create place-based houses marked by the influences of landscapes from the Rocky Mountains to the Eastern Seaboard. Their award-winning perspective is powered by inspired design and an exacting eye for placement, an ethos that stems from a unity of nature, beauty, balance and imagination. JLF Architects has established a genuine alliance with Big-D Signature, built through 20 years of working together, to create a streamlined design-build process that benefits clients. Winners of Mountain Living magazine's 2016 Home of the Year, the JLF Architects and Big-D Signature design-build team unites passionate architects with dedicated builders to enable the collective imagination of visionary artisans working with visionary clients. For more information visit http://www.JLFArchitects.com and follow JLF on Instagram and Pinterest.
Share article on social media or email: