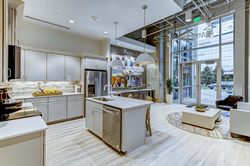 "The Triangle's growth in population, job opportunities and infrastructure are the main contributor to the unprecedented demand for new homes," said Trish Hanchette, President.

RALEIGH, N.C. (PRWEB)
December 21, 2021
North Carolina-based home builder McKee Homes announced today the grand opening of their latest design studio in Raleigh. Located in the CAPTRUST Tower in the Park District of North Hills, the McKee Homes design studio offers homebuyers an opportunity for a hands-on experience of the finishes and on-trend styles that are designer-curated for their new home.
"The Triangle's growth in population, job opportunities and infrastructure are the main contributor to the unprecedented demand for new homes," said Trish Hanchette, President. "We are excited to continue to differentiate McKee Homes from other builders who are shrinking their studios and home personalization. Our new Raleigh studio is state-of-the-art and will continue to refresh with on-trend design
…
Read More