Holidays are on their way, sooner than ever this year. Before you run out and spend a ton on decorations, especially those that may not last, why not have some fun and make them yourself? But you may be thinking, I am not crafty. No problem! Our DIY Christmas decorations 2021 guide is perfect for you! We made this in mind for anyone looking to have some fun with family, friends, or simply a way to entertain yourself or save some dough.
DIY Candle Holders
Candles can set the mood for the holidays. Candlelight and fires are some of the first things that come to mind for a cold, winter's night or a holiday dinner. Why spend money on expensive candle holders when you can make them? Candle holders make great gifts as well. Check out these amazing DIY candle holders and creative ideas!
DIY Birch Candle Holders
If you have some tree branches laying around, why not turn them into something fun?! Birch candle holders are really popular, and for good reason. They smell amazing, look rustic, and are simply beautiful. In her blog, Nina Hendrick reviews how to use real logs to DIY Birch Candle holders.
Simply choose some of the straightest logs, drill a hole in the center for a tea light (make sure some metal stands above the top to keep the flame from the log). After that, create a set of varying height and voila! Amazing DIY candle holders.
Add some copper for a polished look
Take your existing candle holders up a notch with a beautiful metallic accent. For instance, a beautiful copper ribbon is a perfect addition to any holiday decoration.
Copper tape is readily available on Amazon in your choice of widths. For example, take something simple like an existing votive or candle holder and add some copper flare. Perfect for a DIY Christmas decorations 2021 craft activity.
Prefer to buy? This beautiful artistic candle is available through Etsy and maker Cuivre Beton.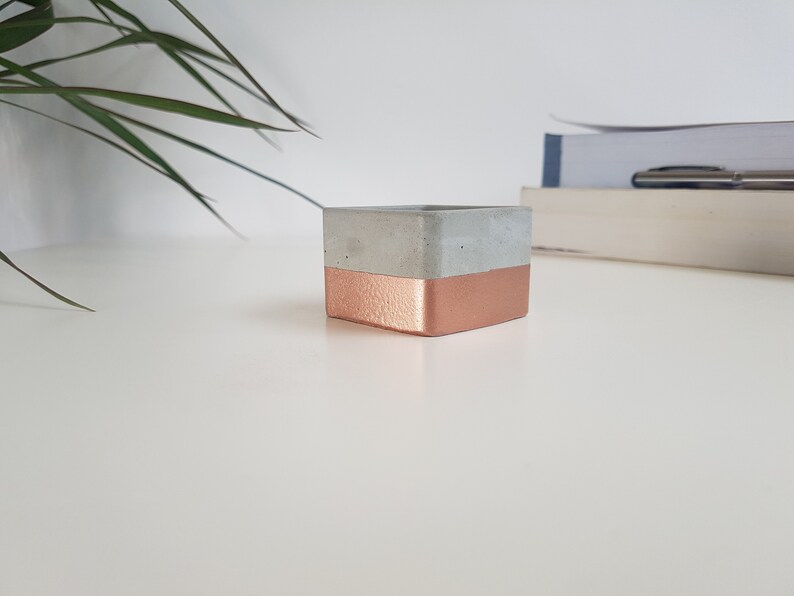 DIY Wood Taper Candle Holder
Try these simple ideas for your tapered candles. Whether you are setting the table or need some added ambiance, these candle holders can be customized with paint or some stain for your personalized look.
This is also a fun craft for littles to add their own touch. For instance, perhaps spell their name in letters, "deck the halls", or some other message that speaks to your family.
For the wooden board version, a cute customization we have seen is adding all the family members names to each side, or adding a year to each side as time progresses to make it a memory board of sorts.
Make Your Own Stockings – DIY Christmas Decorations 2021
Why buy expensive, impersonal stockings? These DIY Christmas decorations 2021 stocking options will not only create custom, beautiful stockings that can last for years, but create beautiful memories for you and your family. Check out Better Homes and Gardens 17 DIY Stockings. Images below. There are options for taking an existing stocking and sprucing it up, knitting or crocheting your own, or adding some sewing features to create monograms and images that will speak to your creative side.
Perfect Holiday Ornaments – Family Holiday Gifts
What could be better than decorating your tree with beautiful, custom ornaments made by your friends and family? There are so many fun options to create your custom ornaments, from the simple to the more complex and intricate.
Gnome Ornaments
These cute gnome ornaments are easy for kids, even toddlers with some help! Also great for using extra scrap craft material.
5 DIY Christmas Ornament Ideas
Have a whole day of fun with these easy DIY ornament ideas. Ideas range from sewing to more complex activities for all.
Custom Ornaments With Wood
These are for sale, but also easy to do-it-yourself. Kids and friends can paint their own messages to customize each piece.
More Ornament Craft Ideas
Sometimes we have too many ornaments from over the years that just aren't personal. We love repurposing beautiful ornaments, and falling in love with something new you get to make. Repurpose something old into something new with these amazing DIY Christmas ornament craft ideas.
Ornament Craft Ideas
No room for a full tree? Get creative with an ornament DIY version. Get the best part of the tree with ornaments and lights but without the pine and mess.
Ornament Plants
Get the best of plants with the color and cheer combined with amazing craft paint. Take your custom spin on an ornament while making a new friend.
Ornament Wreath
This is a perfect craft to set up early and let everyone get creative! Grab a foam wreath starter from a craft store then let the creativity flow! Great for all ages.
Easy DIY Christmas Decorations 2021 For The Non Crafty
Maybe crafting isn't your strong suit, however you can still have fun with do-it-yourself! No matter your skill, we hope these easy DIY Christmas decorations 2021 help scratch that creative itch. Spending time with your family is what the holidays are all about, and these craft ideas can give you that quality family time and memories to boot. We hope these ideas for kids and adults help inspire your holidays to be their best this year. Need more DIY decor ideas? Try our Home Decor page for past ideas and inspiration!
---
Latest Posts
The Ultimate Holiday Decor Trends 2022 List

by Kim J.

One of our favorite times of year is here, and with that comes the exhilarating thrill of decorating for the holidays. No matter what holidays you

OLED vs QLED – Which TV Is Best For You?

by Jack D.

Black Friday deals are getting close, and with that comes crazy deals on television sets. Upgrading a TV can be overwhelming with all the choices, we

Best Patio Heaters Fall 2022 / Spring 2023

by Jack D.

Compiled from all the top sources: Bob Villa, The Spruce, CNET we organized all the top lists for best patio heaters fall 2022 so you don't

Sherwin Williams Paint Color of The Year 2022 – And 2022 Paint Color Trends

by Jack D.

We are preparing for 2022, and what could be better than the 2022 color of the year from Sherwin Williams?! The Sherwin Williams paint color of

DIY Christmas Decorations 2021 – A Guide For The Less Crafty

by Kim J.

Holidays are on their way, sooner than ever this year. Before you run out and spend a ton on decorations, especially those that may not last,